Maintenance and a Little Customization
I got the Bronco all back together and ready for the trail! On my way to meet the club and the engine starts overheating... 😣

My final trip of the year was foiled by a bad fan controller that is less than a year old. Of course it was a special order part, so after all the hard work and rushing to get the Bronco trail ready, she sat in the driveway again for a week. Here is the culprit to my wows...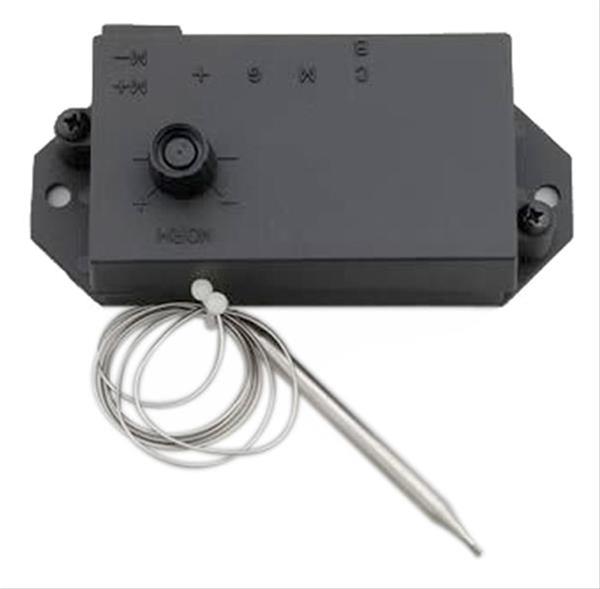 I decided I wouldn't let a bad controller stop me in the future and ordered a manual switch. I got started on the wiring harness, but they didn't supply enough wire. So for now the interior work is complete and I'll finish up the harness soonish.
It didn't run out exactly how I wanted due to the indent where the mic mount is located. I will most likely cut out a bit more of the opening and add three more rocker switch blanks. I'll relocate the mic elsewhere. Future toggles will be roof lights, back up lights, and fog/bumper lights. The last one will remain blank until I get my winch bumper and winch.
I changed the oil after using the BG EPR crankcase flush. I was impressed! It pulled sludge out into my drip pan and I could feel and hear the difference in the engine. I am thinking about adding there MOA additive as well, but I am not a huge believer of engine additives. We'll see.
I'll be adding the 44K into my fuel system when it arrives. I also swapped out the fuel filter and fuel pressure regulator to see if it would help with some of the cold start and rough idle issues I have noticed. It certain did help with the cold start/choke issues and man the thing runs smooth! I do still notice a bit of a stutter at idle. Enough to see the RPM gauge bounce ever so slightly and hear a rhythm in the engine cycle. It bugs me! I'll be swapping out sensors and modules next. I'll start with the ignition control module, then the Idle Air Control Motor, Throttle Position Sensor. I'll then move on to the MAP Sensor, Ambient Air Temperature Sensor, Coolant Temperature Sensor/Sender, and I might as well do the Barometric Pressure Sensor while I am at it. If those don't solve the issue, then I'll swap out plugs, wires, coil and possibly the entire distributor. With the exception of the distributor, the rest of the ignition system is about a year old.

Once all that not so much fun stuff is complete, I'll be turning my attention to wheels, lift, and slapping on my BFG 35" mud tires. Then it'll be on to not so much fun stuff like rebuilding and upgrading both axle assemblies, brakes. Then back to some fun stuff like finishing off the rear bumper with spare tire carrier and Jerry Can/basket carrier. Here's some inspiration for me to keep going on this build...
This grey and black Bronco is almost exactly what I had envisioned for my Bronco. I am really loving the orange on this one though. We'll see. I'd prefer a tan/khaki interior and mine is black and grey.